Market Update – Bitcoin Keeps Rising
Reading Time:
< 1
minute
The leading cryptocurrency keeps rising after falling to $31,000 on May 23. Today, the currency created by Satoshi Nakamoto is trading very near to the $40,000 mark, at $39,313.29 (4,49%). This is a bit more than $2,000 than yesterday, when the coin was in fact suffering a 1,53% loss.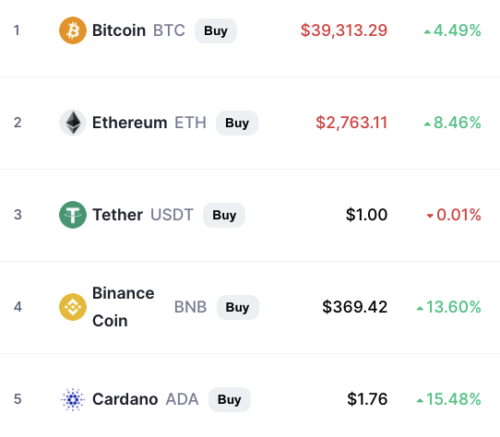 While we cannot be talking about any positive news behind the current growth trend, there isn't either any negative news that might hamper it. It is true that we have reported that Iran has just banned crypto mining, however, this is a temporary measure, so the activity is not in danger in the country, at least for now.
Ethereum, the second largest asset in terms of market capitalization, has added 8.46% over the past day and at the moment is trading at $2,763.11, almost $200 more expensive than yesterday.
As far as Tether (USDT) is concerned, its price remains without major changes, as a different dynamic would be something that should concern us – its price is pegged to the US dollar, so it should always be very close to $1.
Today we have reported the total supply of the stablecoin market has broken above $1 billion, of which Tether represents a 62%.
The capitalization of the cryptocurrency market is approaching again the $2B mark, sitting at  $1,718T at the time of writing.