Market Update – Bitcoin Breaks Above $40,000
Reading Time:
2
minutes
The market's leading cryptocurrency, BTC, has started the week breaking above the psychological barrier of $40,000, a level it had not surpassed in 2 weeks.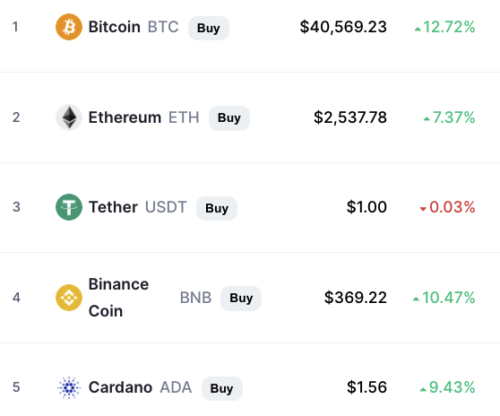 The price of the asset is increasing probably boosted by Elon Musk's statements about Tesla adding Bitcoin payments again in the future once 50% of the crypto's mining is based on renewable energies.
In fact, this is actually one of the few positives news about the crypto market today. On the other side of the coin we have the news about the BTC mining difficulty falling by 5% dragged down by the decrease in the hashrate of the network resulting from the ban of crypto mining in the Chinese province of Xinjiang.
As far as regulation news is concerned, today we have reported that South Africa has plans to develop a regulatory framework for the cryptocurrency industry, which represents a major shift in the country's non-intervention policy towards crypto it had followed so far.
As can be seen on the chart above, Bitcoin has added 12.72% over the past day and at the moment is trading at $40,569.23. Its market cap amounts to $757,032,512,948, while the market's total capitalization stays at  $1.719T, well above Friday's $1.594T. Regarding the Bitcoin dominance index, it remains unchanged from Friday's level at 44.0%.
The crypto market in general seems to be following the crypto's rally, with Ethereum adding 7.37% over the past day and Binance Coin and Cardano increasing by 10.47% and 9.43%, respectively.
The week has just started. Will BTC be able to keep this growth pace?