Market Update – Bitcoin Suffers Little Changes Over Past Day
Reading Time:
2
minutes
The cryptocurrency created by Satoshi Nakamoto is almost at the same level as yesterday, since today it is trading at $40,282.56, very close to yesterday's $40,569.23.
The 4 altcoins that follow BTC in CoinMarketCap's ranking of largest cryptocurrencies by market cap are also in positive territory.
The news that MicroStrategy is to sell $1 billion in stocks to buy more cryptocurrency has not been reflected on the price of the crypto, which means that traders are maybe waiting for this to actually happen before they start buying the asset compulsively? Time will tell.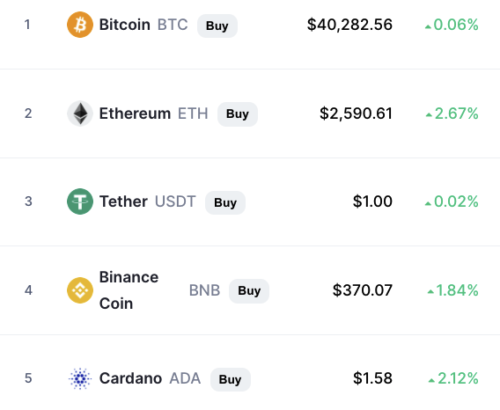 As far as indicators is concerned, the BTC dominance index is at 43.5%, showing a 0.5% decrease from yesterday. Regarding the market's capitalization, it has risen to $1.736T from yesterday's $1.719T.
The greed and fear index currently stands at 38 points, adding 10 points since yesterday, which corresponds to the fear mode.
Most of the market seems to be in positive territory with very contained gains, showing there is no real trigger causing a sharp price change.
On the other side of the coin, it looks like the news that Thailand's SEC has banned the trading of NFTs, meme cryptos and fan tokens has not had any influence on the market, because as we have said above, most coins are in green.
Who will be the next big player investing in Bitcoin? Will this have an impact on the price of the asset? Today's news about MicroStrategy seems to have been ignored by traders, maybe because a few hours earlier the company had announced a $500 million bond offering whose proceedings would be spend in BTC. We cannot tell what will happen after the next big investment is known.
Whatever happens, the crypto is comfortably sitting above $40,000, and this fact itself could be considered good news.