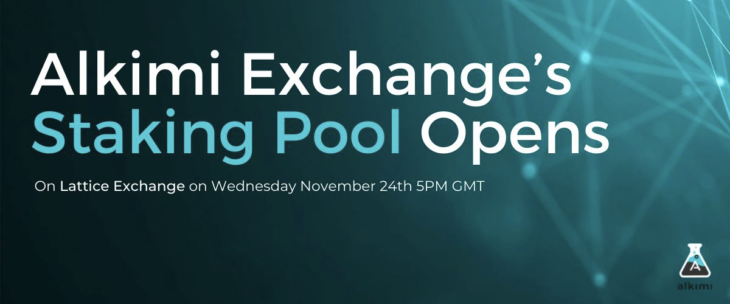 Alkimi Exchange Opens Staking Pool on Lattice Exchange
Reading Time:
2
minutes
Alkimi exchange, which has been built on Constellation Network's Hypergraph, has just announced that its Staking Pool will open o Lattice Exchange tomorrow, November 24.
According to the press release that has been shared by the company, the staking pool for a maximum of 30 million $ADS tokens will start operating tomorrow at 5pm GMT and will close 30 days later on December 24 at 5pm GMT.
It is worth taking into consideration that this is the first launch and smart contract deployment from Alkimi Exchange. Those users who are interested in joining the pool, can do so through Lattice Exchange (lattice.exchange), where additional details about how to stake on Lattice can be found.
The launch of the pool should be considered as a great milestone for Alkimi Exchange due to the fact that its mission is to yield fewer and better ads on the Internet. The project intends to achieve this by rewarding users for browsing the Internet, very different from the current situation in which they are actually punished.
Benjamin Putley, CEO & co-founder of Alkimi Exchange, said:
"The staking pool is the first step on our roadmap and I'm hugely proud of the team for delivering it so effectively. The Bandwidth Pool will establish the bandwidth required to support our Something For Nothing programme, where ​​we are paying publishers NOT to show ads. 

In Q1 next year, we will start working with the world's best publishers to show fewer, but more relevant ads. This will allow us to support publishers showing fewer, better ads on the internet. 

We want to reward users for browsing the internet and with this milestone we are one step closer to doing just that. Bad advertising broke the internet, let's fix it with $ADS".
We should remember that the news comes shortly after the company's recent initiatives and accomplishments, which include, among others, the announcement of the exclusive AlEx The Alkimist NFT Rewards Collection, over 2,100 wallet holders as well as Unizen and MEXC listings.
It is important to mention that the staked tokens will be locked in for a period of 3 months and that there are 5 different types of NFTs: Ultra-Rare, Medium-Rare, Rare, Common and Community NFTs.