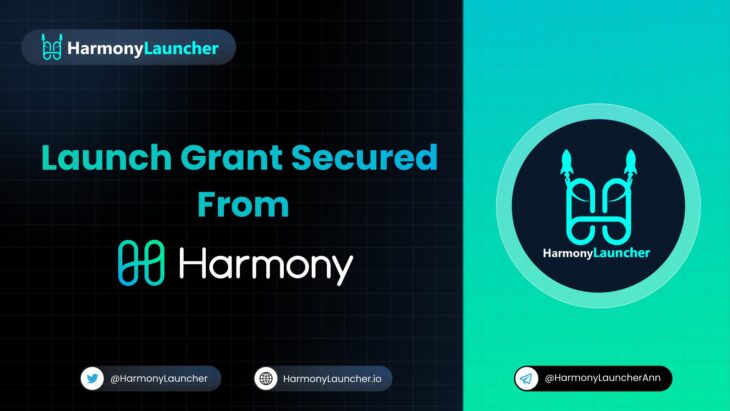 Harmony Launcher Develops Methods to Support Projects and Bolster Exposure
Reading Time:
3
minutes
DELHI, INDIA, 10th February, 2022, Chainwire
Launchpads have been exciting growth catalysts and leading indicators of an ecosystem on the verge of taking off. According to Joe Wong, the question is, is Harmony Launcher going to bring a storm to harmony protocol?
As blockchain technology evolves, it has attracted many ambitious businesses under its umbrella. However, it has also introduced unavoidable issues such as a lack of opportunity for all, a shortage of launchpads, and underlying platforms. In response, Harmony has been getting a lot of traction after its launchpad launch.
Giving Projects Necessary Exposure
Harmony Launcher fits in to fulfill the lack of solid infrastructural products to launch projects. In addition, it gives them the necessary exposure. Developers and startups can propose to establish directly with the project. Then, the team will thoroughly vet, evaluate, and assess the proposal. The project is then offered assistance in commercial growth, operational support, and networking. It also provides coaching, creative direction, and tokenomics development.
Ethereum, Solana, and BSC are getting crowded, costly, and excessively sophisticated by the day. However, according to the developers of Harmony, the launcher is a hundred times better in technical and functional terms. Harmony's cross-chain interoperability is open, quick, safe, and scalable. Hence, it enables an extensive and powerful user experience.
The project also offers its customers reduced costs and a more secure environment. Here, they can create, feed, and assume a rightful place within the blockchain ecosystem.
In addition, the Harmony launcher eliminates the possibility of an unfair allocation. It allows all investors and community members to participate in fair, secure, and guaranteed IGO and IDO via its unique allocation tires.
A Chance to Build Unique Projects
Harmony's recently received a 300 million grant to build unique projects on its network. Hence, startups can launch and get their ideas out to the world. Members of the Harmony Community are exclusively responsible for grant approvals and governance.
Meanwhile, becoming a grantee is a simple procedure that users may complete in a few steps. Once a project applies, the Harmony team reaches out after a complete proposal review within a week. Once selected for the grant, the next part is to submit a project to the governor.
Once Harmony has authorized the governor, they are accountable publicly. The grant approval is announced on Harmony's forum. Each Friday, they provide weekly input and support by reacting to the project's tweet. Before approving grantee items, governors must also test and examine the project.
The Harmony Incubator and AMM DEX
Harmony Incubator acts as a one-stop incubator for speeding the development of innovative blockchain projects. Hence, it offers tokenomics, business development, networking, creative direction, and secure escrow services.
The Automated Market Maker (AMM) Decentralized Exchange by Harmony Launcher is a blockchain-based liquidity technology. It enables the primary factor to swap tokens with low fees and slippage instantly. In addition, it offers the industry's best exchange rates throughout the DeFi ecosystem.
Harmony AMM Dex also lets users generate passive revenue. They can farm, mine, provide liquidity, and stake $HARL.
$HARL Token
$HARL, Harmony's native token, plays a vital role in controlling the platform and serving many tasks.
Users may reserve assured allotment with the aid of $HARL. They can stake it on the harmony launcher's seamless platform. Furthermore, customers get APY for holding $HARL for an extended time. Notably, Staking $HARL is the sole option to reserve allocations on Harmony Launcher. It has an adequately validated tier structure separated into three tiers.
About Harmony Launcher
Harmony Launcher is the world's first decentralized IGO and IDO Launchpad. It is also an incubator based on the Harmony Blockchain, complete with an integrated AMM DEX. Its primary goal is to incubate and provide conditions for startups and initiatives built on the Harmony network to construct, raise money, and launch successfully.
Meanwhile, you can reach out to them and read more about them from their links below:
Website: https://harmonylauncher.io/
Telegram: https://t.me/harmonylauncher
Medium: https://harmonylauncher.medium.com/
Twitter: https://twitter.com/harmonylauncher
Contacts
Prashant Saxena
harshad@harmonylauncher.io