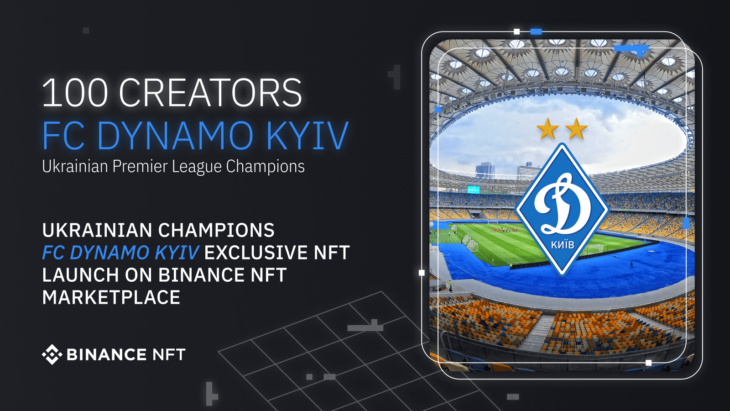 FC Dynamo Kyiv to Become First Major Sports Team in the World to Sell its First NFT Event Tickets
Reading Time:
3
minutes
European FIFA football team ranked No. 1 in the Ukrainian Premier League, FC Dynamo Kyiv, is launching NFT ticketing for its 2021 season, powered by its blockchain partner Moonwalk. These tickets will be listed exclusively on Binance NFT Marketplace as a part of '100 Creators Campaign' that is done to celebrate the launch of Binance NFT Marketplace. Dynamo Kyiv will become the first major sports team in the world to regularly sell NFTs as both tickets and collectibles.
Dynamo Kyiv fans will be able to purchase NFT tickets only on Binance NFT Marketplace at the end of June. Moonwalk and Binance NFT will serve as the exclusive NFT ticketing providers. Leading up to the season kick-off, exclusive game-related NFTs will be dropped on the leading NFT marketplace, Binance NFT.
"Dynamo Kyiv has an outstanding history and one of the biggest fan bases in Ukraine. We are excited to announce this collaboration, and for sure, the users have been looking forward to it as well. We strongly believe that NFT tickets will soon become a usual part for football fans and that Binance NFT Marketplace will be one of the leading platforms for the NFT tickets," said Gleb Kostarev, director of Binance in Eastern Europe.
Moonwalk is a Digital Economies platform that enables NFT's and tokens to integrate into real-world applications such as physical and virtual event tickets, e-commerce, in-game skins, consumer rewards and payment networks. In January 2021, Moonwalk announced plans to launch a digital economy for Dynamo that will include a comprehensive token ecosystem within the team's stadium and throughout the City of Kyiv. The project is now in advanced development.
"Dynamo Kyiv has established itself as an incredibly forward-thinking franchise as the team has developed new ways to engage with their fans, communities, and partners," said Greg Consiglio, Co-Founder of Moonwalk, a former Ticketmaster senior executive. "NFT ticketing is one of many aspects of the reward ecosystem that Dynamo is launching with Moonwalk. The ability to collect NFT game memorabilia that will also serve as tickets unlocks a number of new exciting possibilities for their fans."
Moonwalk's NFT capability is enhanced by partnerships with Blockparty, which will power the NFT marketplace embedded in Dynamo's website, and NFT Protocol, a decentralized NFT exchange, that will power peer-to-peer ticket resale for Dynamo NFT tickets. Blockparty was among the first companies in the world to pioneer the blockchain ticketing space, having launched as an NFT ticketing platform in 2018 before expanding into a platform for NFT sales and white label NFT marketplace solution.
Over time, Dynamo expects to sell more than 25% of its general admission tickets as NFT's for home games. During the shortened 2019-20 season, Dynamo sold more than 400,000 tickets to its home games at its 70,000 capacity stadium, NSC Olimpiyskiy. Once NFT's are bought on the Binance NFT Marketplace, fans can then unlock game tickets, exclusive rewards, drops and experiences through the team's digital wallet powered by Moonwalk with more details on Dynamo website.
"The tokenization of the legendary club, announced by us at the beginning of the year, is not a tribute to fashion and not following an opportunistic hype. We have a well-calculated strategy and follow a clear goal – to make FC Dynamo, the best club in Ukraine, the greatest technological leader of football in Europe within the next two years. Today's event is a vivid example of the validity of our hopes. We believe that next year dozens of professional clubs from all over the world, playing in various sports, will use NFT as tickets and collectible assets, but the fact that FC Dynamo Kyiv was the first in the world who managed to do this will forever remain in the history of world sports. We'll always strive to provide our fans with the most up-to-date, efficient services and tools. And will only work with recognized industry leaders. Therefore, our NFT ticket was developed by one of the leading US companies, Moonwalk, and Binance NFT marketplace, a division of the world's largest crypto exchange, has been chosen in order to host the sale", said Mark Ginzburg, FC "Dynamo" Kyiv Vice President and Head of the Department of Innovation.