$32M Stolen From Users of DeFi Project DeFi100
Reading Time:
< 1
minute
The users of the decentralized finance project DeFi100 have reportedly lost $32M. However, the loss is not the result of an attack to the project. According to a crypto analyst, the people behind the Binance Smart Chain-based DeFi project have run away with the funds of the users.
The landing page of the project showed a message that makes it clear that there has not been any hack or external attack: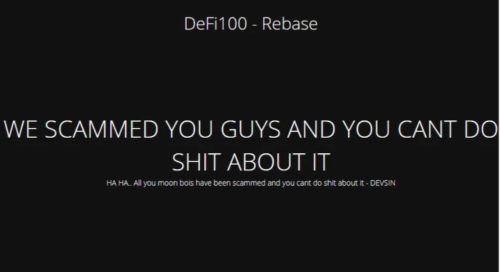 However, at the time of writing, the page cannot be accessed, as it shows a "page not found" error.
While some might think a hacker could have hacked the page so that it shows that message on the landing page, the lack of new messages on the Twitter account of the project talks by itself.
Unfortunately, this is not the first nor the last scam in the crypto sphere. For that reason, investors should always do a proper research on the project the plan to put their money in.
If you look for the native token of the project, D100, on CoinMartketCap, you will find this notice: