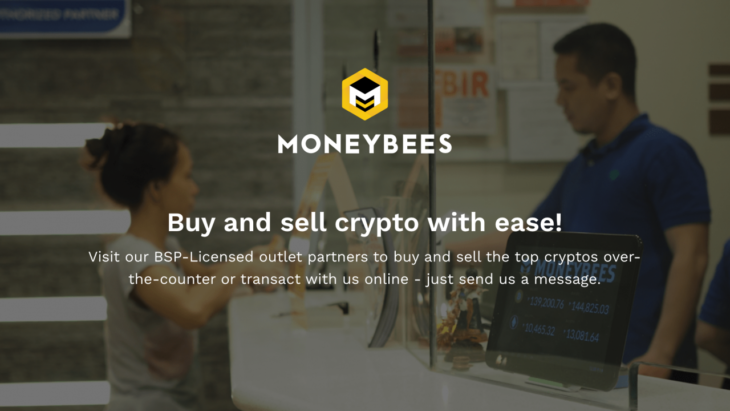 Filipinos Can Now Cash in Crypto Without Fees Through Moneybees OTC Outlets
Reading Time:
3
minutes
With cryptocurrency adoption increasing in the Philippines, Filipino users are looking for ways to convert their digital assets into cash at an affordable rate.
The Central Bank of the Philippines has recorded P76 billion (US$ 1.5B) worth of transactions processed by local virtual currency exchanges (VCEs) in 2020, which is five times higher than the transaction volume in 2019.
Moneybees, the pioneer of over-the-counter crypto (OTC) exchange in the Philippines, is changing the face of crypto transactions as it enables both OTC and online transactions to exchange cash and cryptocurrencies on the spot more conveniently. With Moneybees, cryptocurrency holders can convert their digital assets into cash without fees and get the funds within 10 minutes.
What is Moneybees?
Moneybees allows you to buy and sell major cryptocurrencies such as bitcoin and Altcoins like Ethereum, USDT, Chainlink, Uniswap, among others, at government-licensed Moneybees Partner Outlets without having to go through an online exchange.
MONEYBEES IS MAJOR ADVANTAGE TO:
Foreigners who don't need to open a Philippine online exchange account just to encash their bitcoins.
Online traders who use exchanges that don't have a PHP cash-in and cashout feature. OTC is also perfect for newbie traders who want to transact with a real person to establish trust.
Overseas Filipino Workers Remittance has often been a serious problem for OFWs. Cryptocurrencies like Bitcoin make it simpler to transmit money to your loved ones that are devoid of hefty transaction fees. Thanks to its flexibility and affordability, OFWs, local recipients, and merchants alike grew to adopt its usage.
If you are an OFW, you can create a crypto wallet and buy and store crypto there. After that, you can send that crypto to your loved one's crypto wallet. Your loved ones can then exchange the crypto into cash in any of the Moneybees OTC outlets within Metro Manila.
Wallet-wallet and Bank-to-bank Transactions
Moneybees makes it simple to exchange crypto and Philippine Peso (PHP)
BUYING CRYPTO: You hand over the payment, Moneybees sends the crypto directly to your preferred crypto wallet.
SELLING CRYPTO: You send your crypto to Moneybees, and you receive Peso in cash or directly to your bank account.
This makes Moneybees the best way to cash in and cash out of your online crypto exchange account. You skip the fees and the hassle.
Key features
EASY – Buy and sell virtual currencies, just like how you buy and sell foreign currencies in a physical money exchanger store.
SECURE -Transact face-to-face with Moneybees trusted partners to give you the peace of mind that your transaction will surely be completed before leaving the shop located in Malls and Casinos.
COMPLIANT – Moneybees only partners with businesses with government-required licenses to ensure your transactions are safe and secure. Moneybees is duly registered with the Central Bank of the Philippines and the Anti Money Laundering Council (AMLC) as a Remittance Agent with Virtual Currency Exchange (VCE) services.
HIGH LIMIT – Customers have a higher daily limit which is up to Php 5 million (US$ 100,000) per day.
Buy And Sell Remotely via Online Trading Desk
Due to the closure of malls and other non-essential establishments, Moneybees has launched an Online Desk to serve its loyal customers continually. You can go to https://www.moneybees.ph/. Find the chat box and send a message to Moneybees customer service. They will facilitate your transaction of buying and selling crypto. Proceeds will be either sent to your bank (when you are selling) or to your preferred crypto wallet (if you are buying) such as Bitcoin.com, Binance wallets, among others.
Find Moneybees in The Following Outlets
1. Monteal Money Changer
Mondays to Saturdays: 10am-6pm
3/F Venice Grand Canal Mall, Mckinley Hill, Taguig City
2. Psulit Money Changer
Mondays to Fridays: 10am to 7pm
Saturdays, Sundays and Holidays: 10am to 6pm
Unit 11-D ground floor, Intrepid Plaza C-5 corner Eastwood Avenue, Bagumbayan, Quezon City
3. Willyn Villarica Jewelry
Mondays to Saturdays: 11:30 am to 5:45 pm
Sundays and Holidays: Closed
Stalls 335/336, 3rd Floor, Market Market, BGC, Taguig
4. Erus Maerd Pawnshop and Money Exchange
Wednesdays to Saturdays: 10:00 am-9:00 pm
G/F Newport Mall, Resorts World Manila, Pasay City
5. Tivoli Money Exchange – Glorietta
Store Hours: 10:00 A.M. – 7:00 P.M.
B1, Glorietta 2, Ayala Center, San Lorenzo Village, Makati City, 1224 Metro Manila
6. Tivoli Money Exchange – Trinoma
Store Hours: 10:00 A.M. – 7:00 P.M.
M1, Trinoma, EDSA corner North Avenue, Quezon City, 1105 Metro Manila
7. Tivoli Money Exchange – Okada Manila (VIP Area)
Store Hours: 24-Hours.
Retail Unit A-23, Upper Ground Floor, Okada Manila, New Seaside dr., Parañaque City, 1701 Metro Manila
Learn more about Moneybees: https://www.moneybees.ph/
Follow on Facebook: https://www.facebook.com/moneybeesofficial/
Find on Instagram: https://www.instagram.com/moneybeesofficial/