Market Update – Sellers Push BTC Down to $29,000
Reading Time:
2
minutes
The cryptocurrency market in general is experiencing a considerable decline. As can be seen on the image below, Bitcoin as well as the rest of coins from CoinMarketCap's top 5 are suffering major losses, with the sole exception of Tether, which has added 0.03% during the last day.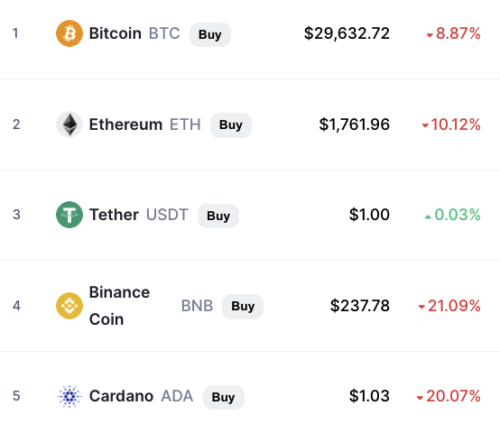 The current situation in the market is probably the result of China's battle against the cryptocurrency industry. As it has become recently known, the central bank of the country, the People's Bank of China, has ordered national banks to not offer their services to crypto-related companies. In addition, the authorities of the country have also ordered power plants to cut the supply to cryptocurrency mining companies.
As a result, banks in China cannot offer crypto-related services and Chinese miners no longer can mine in many provinces in the country. For example, crypto miner BTC.com has decided to move its operations to Kazakhstan.
The current crash in the crypto market has dragged the market cap down to $1.185T, very far from yesterday's $1.338T.
Regarding the Bitcoin dominance index, it has risen to 46.9% from yesterday's 45.5%. We should remember that the higher this indicator is, the worse the health of the market is.
The news that VanEck has filed a new application with the SEC to launch a Bitcoin futures mutual fund has not had any positive effect on the market given the current crash.
Will buyers start purchasing the asset now it has fallen below $30,000 and push its price back above that level? We will know soon.