Joining Pangolin V2's First Liquidity Pools, TrueUSD Takes the Growth of Avalanche to the Next Level
Reading Time:
3
minutes
Singapore, Singapore, November 30, 2021: The year 2021 is a significant milestone for the Avalanche protocol: its on-chain DeFi TVL has exceeded $12 billion, hitting a record high, and it has risen to be a top-five public chain in terms of TVL. A crucial contributor to this achievement is Pangolin, a top decentralized trading platform in the Avalanche ecosystem.
As the first USD-pegged stablecoin native to the Avalanche protocol and an essential ecosystem partner, TrueUSD launched the TUSD-AVAX liquidity pool on Pangolin, a decentralized trading platform, on November 22. Users who provide liquidity to the pool will receive corresponding PNG rewards. As TrueUSD arrived on Pangolin V2, the APR of the TUSD-AVAX liquidity pool has been kept at a whopping 562%, dwarfing all other stablecoin pools and providing TUSD holders with a rich return.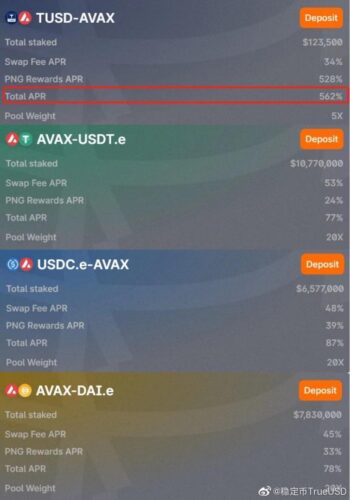 Pangolin V2 liquidity pool
Superiority of the product upgrade is clear to users of V2 – Pangolin V2 features improved DEX parameters and streamlined trading and LP experience. The updated smart contract was already activated on Avalanche Mainnet on November 21. Besides, it is worth noting that liquidity providers of Pangolin V2 will receive more significant incentives. Within 30 days after the launch of V2, Pangolin distributed $4M worth of PNG to liquidity providers, in addition to the fixed daily mining rewards of 175K PNG set in its economic model to support this new version while incentivizing users to migrate their liquidity from V1 to V2. In addition, a new UI that eases the process of migrating liquidity from V1 to V2 is also in the pipeline.
TrueUSD's partnership with Avalanche dates back to March this year. In February, Avalanche launched its first-generation cross-chain bridge – Avalanche-Ethereum Bridge (AEB), whose prospect was recognized by the TrueUSD team. The partnership was later announced in March, making TrueUSD the first native stablecoin in the Avalanche ecosystem. This move has packed a hefty punch on the liquidity in the Avalanche ecosystem and has laid a solid foundation for the development of its DeFi infrastructure. Additionally, users can mint Avalanche-based TrueUSD on TrueUSD's official website to engage directly in the construction of the Avalanche ecosystem.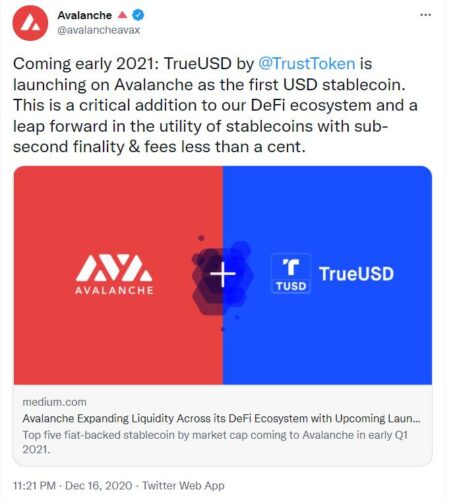 Avalanche's announcement of its partnership with TrueUSD
TrueUSD, an early DeFi infrastructure project, officially announced the launch of its Fountain Incentive Plan in October. The scheme will provide early projects with higher liquidity by introducing TrueUSD and other digital assets worth $1 billion to DeFi ecosystems. This year, the Avalanche Foundation also launched Avalanche Rush, the most significant liquidity mining incentive program, earmarking AVAX rewards worth $180 million to power the all-rounded growth of DeFi applications in the Avalanche ecosystem.
It is believed that driven by the shared goal of catalyzing DeFi's growth, TrueUSD will work closely with Avalanche to leverage the synergy between stablecoins and DeFi ecosystems with the support from Fountain Incentive Plan and Avalanche Rush, and therefore take the growth of DeFi 2.0 to another level.
About TrueUSD
TrueUSD is the first digital asset with live on-chain attestations by independent third-party institutions and is backed 1:1 with the U.S. dollar. So far, it has been listed on more than 100 trading platforms such as Binance, Huobi, and Poloniex. It is also live on well-known public chains such as TRON, Avalanche, BSC, and HECO, providing them with a great deal of liquidity to catalyze the growth of their DeFi ecosystem. It is audited real-time by Armanino, one of the largest US-based accounting firms, to ensure the 1:1 ratio of USD reserves to circulating token supply and the 100% collateral rate. Users can access the publicly available audit results via the official website at any time.
Contact Us
Website: https://trueusd.com/
Twitter: https://twitter.com/tusd_official
Medium: https://trueusd.medium.com/
Telegram (EN): @TUSDofficial_EN
Telegram (CN): @TUSDofficial_CN
Contacts
Peggy Yue
peggy@trueusd.com