Market Update – Bitcoin Almost Touches $35,000
Reading Time:
< 1
minute
The market's leading cryptocurrency is just a few dollars away from the $40,000 mark. Compared to yesterday, Bitcoin has added about $700 in just one day, which is not bad news.
The rest of altcoins from CoinMarketCap's top 5 are also enjoying some gains with the only exception of Tether, which has lost 0.02% over the past day.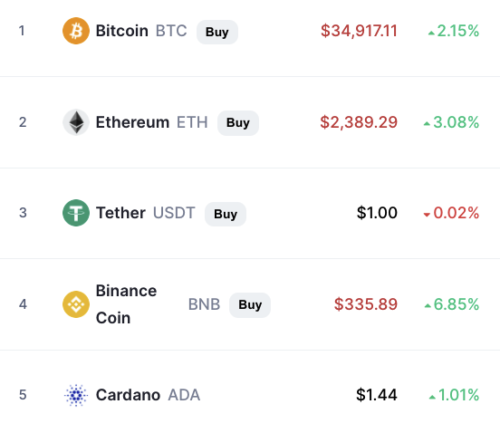 The Bitcoin dominance index is at 44.2%, a 0.2% above yesterday's level. Regarding the total capitalization of the market, it stays at $1.481T, above yesterday's $1.430T, while the capitalization of BTC amounts to $655,143,529,682.
Today we have shared some interesting news about the crypto industry. For example, it has become known that 40% of institutional investors intend to buy more Bitcoin in the near future, while Iran has stopped its electricity export to guarantee the supply of energy to Iranians. The measure has been taken in the context of the continuous power outages caused by the excessive consumption of electricity by crypto miners.
As far as Ethereum is concerned, a well-known developer has said that the upcoming London upgrade will occur on August 4. However, this date is just a proposal and must still be approved in the meeting of main ETH developers, which will be held on July 9.