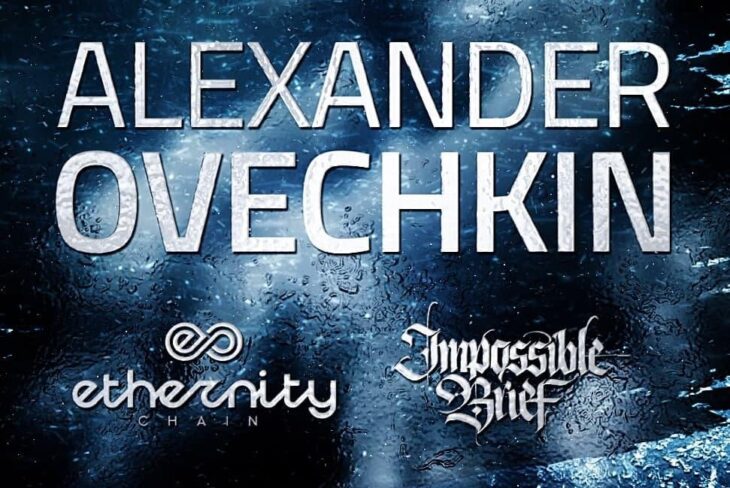 Hockey Legend Alex Ovechkin Mints Exclusive NFT Collection with Ethernity Chain
Reading Time:
3
minutes
Los Angeles, CA, August 8, 2021: Ethernity, the groundbreaking crypto based marketplace and platform for digital collectibles and non-fungible tokens (NFTs), today announced the details of the "Drop #15: Alex Ovechkin" authenticated NFT collection. The Alex Ovechkin collection was designed in collaboration with popular digital artists Impossible Brief showcasing the major accomplishments, signature gear, and proud Russian heritage of one of the greatest hockey players to ever grace the rink. This announcement comes on the heels of Ovechkin's newly signed $47.5mm USD contract as he marches onward in his NHL career. The NFT collection will be available to the public for auction beginning on August 8th, 2021 at 12pm ET for 72 hours only on Ethernity Chain.
Ethernity and the team at Impossible Brief sought to push the boundaries of NFT art by creating animation styles that have never been seen in the sports collectibles world before. From raising the coveted trophy to Ovi's signature yellow-laced skates, collectors won't want to miss out on this opportunity to own a piece of sports NFT history. See stills of the unreleased collection here and here.
"For me all this time in my career I always sign things or take pictures and now that we can do it I think making digital collection that lasts forever it is something I wanted to do" says Ovechkin. "I am excited about what we created and hope the fans all over the world will love it."
The Collection Includes:
The Great 8 (1 of 1 available)

Auction Starting Price: $1 in ETH

Laced Up (18 available)

Auction Starting Price: $188 in ETH

Russian Sniper (38 available)

Auction Starting Price: $188 in ETH

A Taste of Victory

Auction Starting Price: $288 in ETH
The highest bidder and winner of The Great 8 ( 1 of 1 crypto asset) NFT will also earn the opportunity for an intimate 1×1 meet and greet with the heralded hockey hero in Washington D.C. to take place during the upcoming hockey season. Ovechkin is just the latest icon to mint an NFT collection with Ethernity with the overarching goal of creating a closer sense of community between fans, collectors and culturally iconic figures.
"The partnership between Alex Oveckin, Impossible Brief and Ethernity originated from a shared vision to honor his fans and legacy in a new, digital way that aims to create a closer connection and sense of community," said Ethernity's CEO Nick Rose. "Ovechkin is one of the greatest players of all time and we are excited to bring this coveted one-of-a-kind experience to collectors worldwide.
Ovechkin's choice to mint an NFT with Ethernity is congruent with other legendary athletes and icons  including Tony Hawk, Fernando Tatis Jr. and Muhammad Ali's estate who have chosen to enter the space led by Ethernity. Positioned as one of the largest growing digital marketplaces and platforms, Ethernity has consistently introduced iconic figures to the NFT metaverse, which they expect to have a long-term positive impact on blockchain adoption.
Drop #15: Ovechkin x Impossible Brief drop will begin auction on August, 8th 2021 at 12pm ET at ethernity.io. The auction will be available for a limited 72 hours.
To view the Alex Ovechkin crypto collection and other authenticated NFTs available please visit ethernity.io.
About Ethernity Chain
Founded in 2021 Ethernity is the groundbreaking NFT (non-fungible token) platform and marketplace for crypto collectibles, auctioning verified artwork featuring the top artists and cultural icons from sports, music, film, gaming, tech, history, entertainment and more. Each of these digital artworks is represented as an authenticated non-fungible token (aNFT). Positioned as one of the largest growing digital marketplaces, Ethernity Chain combines the utility of DeFi and innovative aNFTs to create an exclusive pipeline to rare, collectible content from notable figures and well-established digital artists.
Contacts
Sarah Wegrzynski
Sarah.wegrzynski@powerdigital.com